Get Original OEM Window Stickers
Get original window sticker with factory installed colors, options and packages. Get credits or opt for unlimited subscription to save big!
Get an OEM reproduction window sticker for just
$9.99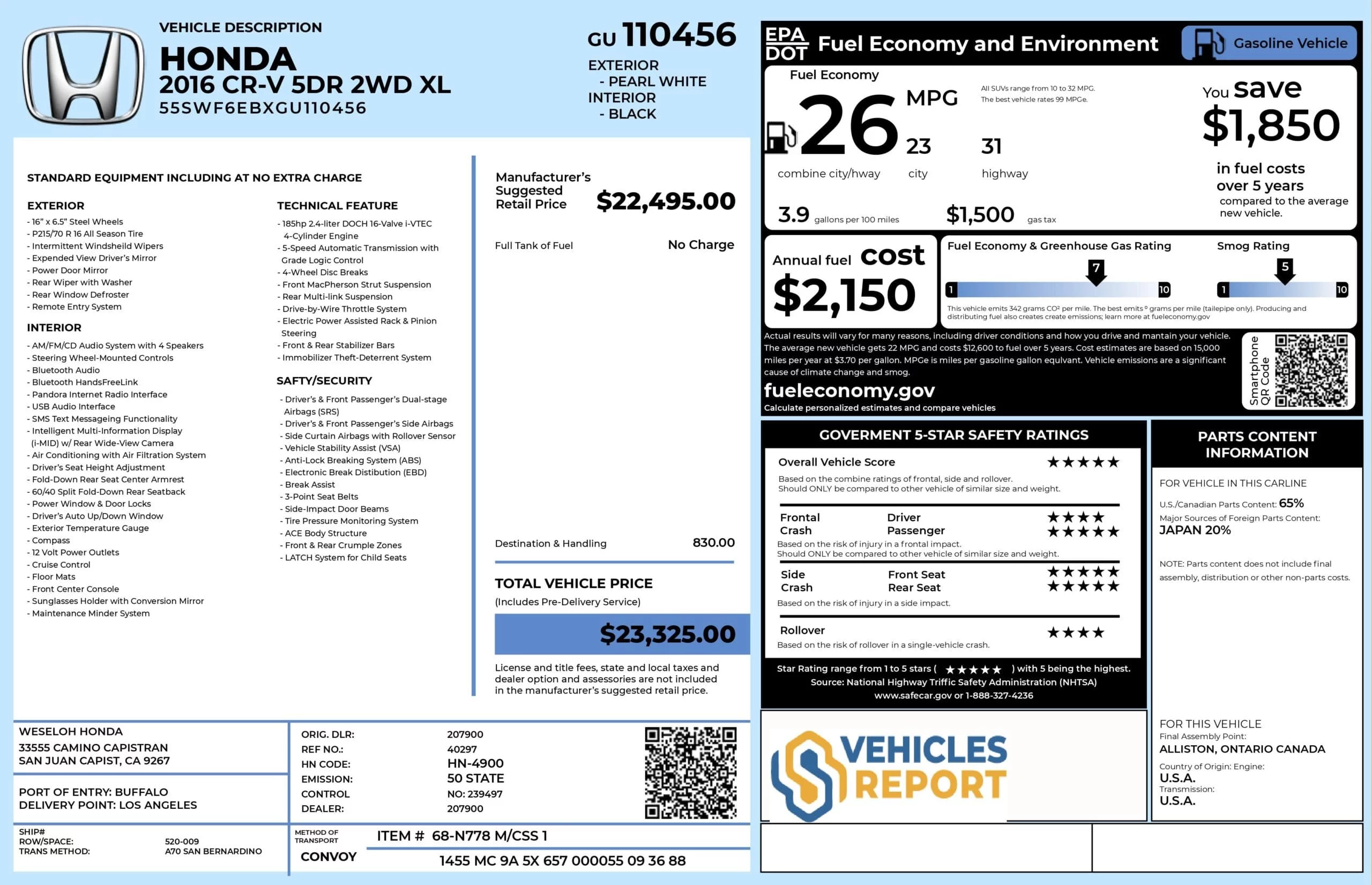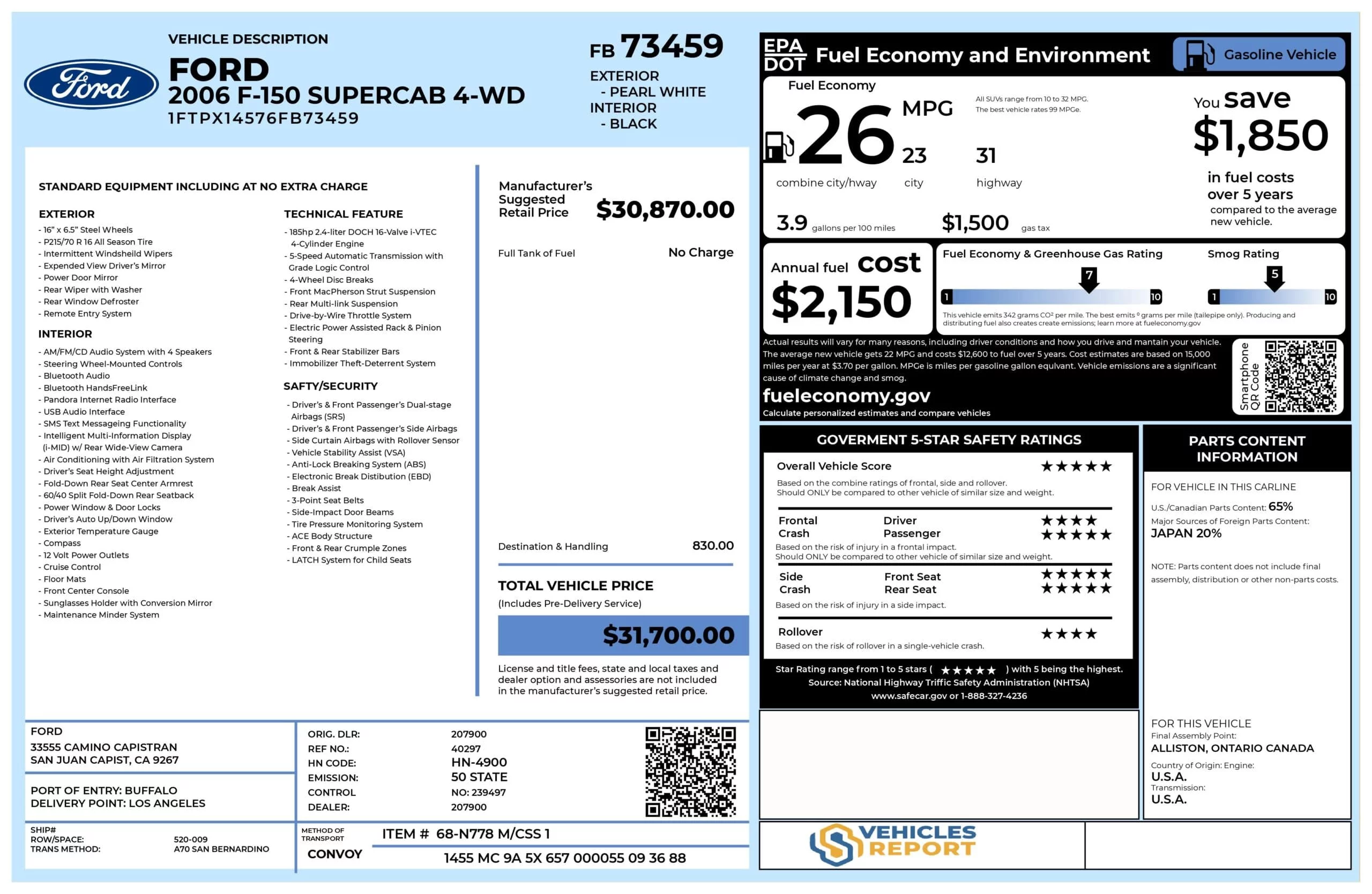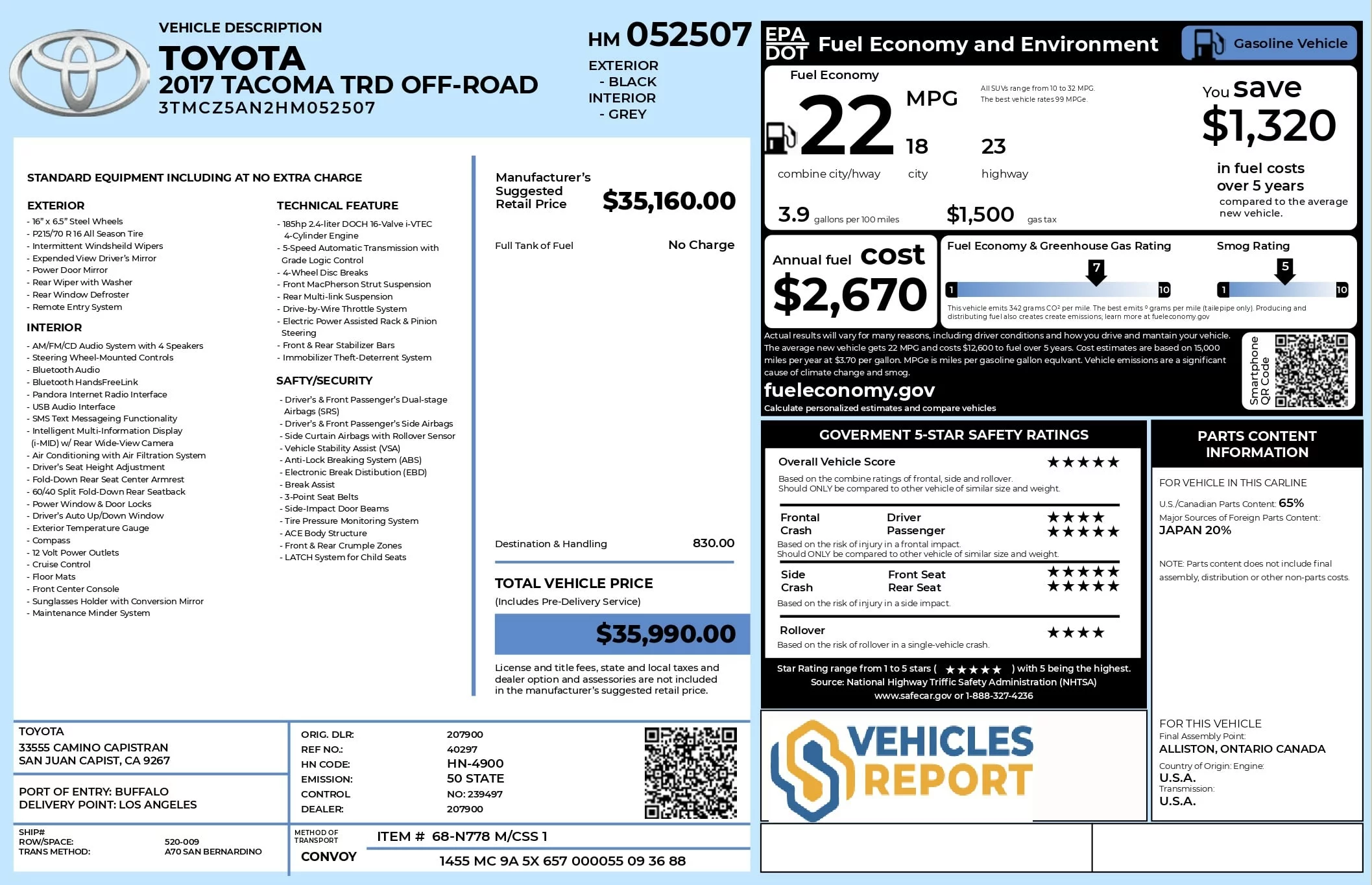 Get window stickers for your dealership in bulk
Everything you need to know about a new or used car is on its window sticker. Auto Shoppers will find the following most crucial information on a window sticker.
Vehicle Description

– Each window sticker reveals the make, model, year,  and trim level of the vehicle. 

Standard and Optional equipment

 –  This section reveals the numerous features and equipment included with the vehicle.  

Warranty information

– Vehicle's bumper-to-bumper and powertrain warranty lengths, roadside assistance packages. 

Total Vehicle Price-

This section displays the total price of a vehicle.

Fuel economy and Environment

– Fuel economy information given by the U.S. Environmental Protection Agency.

Safety ratings:

 Safety ratings from  the National Highway Traffic Safety Administration's New Car Assessment Program (NCAP)

Parts content information

–This section includes where the vehicle was assembled and engine transmission information

QR code

–  This directs you to the Environmental Protection Agency (EPA) website.
Benefits of having Custom window stickers for car Dealerships:
Dealerships can use custom window stickers to their own advantage. Custom window stickers can be powerful options that provide you with an enormous return on that initial investment.
Custom window stickers provide you the means to let your customers show their support.

Dealers can easily display the price of their vehicle via window stickers, hence selling faster

Providing accurate and reliable information to the customers ends up happier customers and they spend more. 

Colorful window stickers with dealership logo and retail MSRP graphics grab the attention of potential customers.
The Window sticker is also known as the Monroney label It was named after US Senator Almer Stillwell "Mike" Monroney, from Oklahoma, who sponsored the Automobile Information Disclosure Act of 1958. The act imposes the idea that all new vehicles should uncover information on equipment and pricing, and now it is required by law in the United States to be displayed on all new vehicles. Early window stickers had dealer information and optional equipment installed in the vehicles. In the 60's, automakers started using window stickers to sell cars. This gave an idea to the auto manufacturers to list all standard automobile features.
Window stickers provide a way to know the cost of a vehicle, this helps dealers to set a standard price for every vehicle in their showroom.
Many car buyers have felt remorseful after seemingly paying more than they ought to for a particular vehicle, a window sticker can help boost the confidence of buyers and their trust in a dealership, hence leading to more sales.
Window stickers help buyers to confirm if the vehicle they want to purchase has all the features they desire, this is because the window sticker displays this information.
Dealerships are considered law abiding citizens when they utilize our window sticker, because they are acting in accordance with the Automobile Information Disclosure Act of 1958
Benefits of Window Stickers
2017 TACOMA TRD OFF-ROAD
VIN: 3TMCZ5AN2HM052507
EXTERIOR - BLACK INTERIOR - GREY
2006 F-150 SUPERCAB 4-WD
VIN: 1FTPX14576FB73459
EXTERIOR: PEARL WHIT INTERIOR : BLACK
2016 CR-V 5DR 2WD XL
VIN: 55SWF6EBXGU110456
EXTERIOR: PEARL WHITE INTERIOR :BLACK
Lookup Window Sticker for any Manufacturer
Frequently asked questions
What is a window sticker?
A window sticker also known as Monroney Sticker uncovers vital information about a vehicle such as the original equipment it came with and the total price when new etc.
Each new vehicle in the United States accompanies a Window Sticker that contains significant information about the vehicle. It contains such things as what sort of vehicle it is, year constructed, color, MSRP (Manufacturer's Suggested Retail Price),  Warranty information, parts content information, standard and optional equipment installed, and Fuel Economy ratings.
How do I get a window sticker?
You can get your window sticker in three ways.
It is also possible to get a window sticker by entering the make, model, year, and trim of a vehicle.

It is very easy to get a window sticker by VIN. Simply find your vehicle identification number (VIN). The VIN number is a 17 digit alphanumeric code the auto industry uses to identify the vehicle. You can find the VIN number on the driver-side interior dash, stamped on the front of the engine block, and the insurance, registration, or title papers. Once you find the VIN number, simply enter this VIN in our unique window sticker lookup tool to generate a window sticker for your car.

If you don't have access to the vehicle identification number for specific reasons, you can get the window sticker by license plate number. Simply feed the plate number of the vehicle in the corresponding window sticker lookup field to generate a window sticker.
In case of any query, simply contact our staff via live chat or email for assistance.