Lookup Mercedes Benz Window Stickers By VIN
Get the original specifications, features, options and packages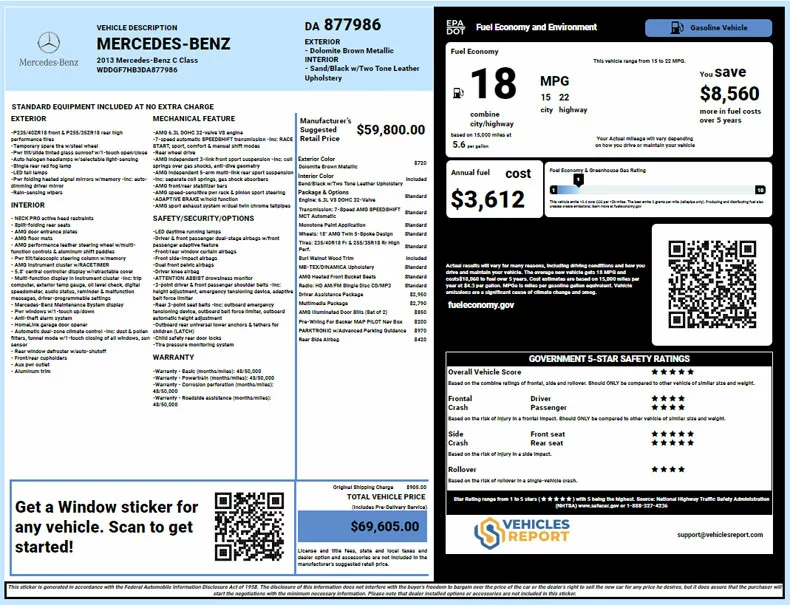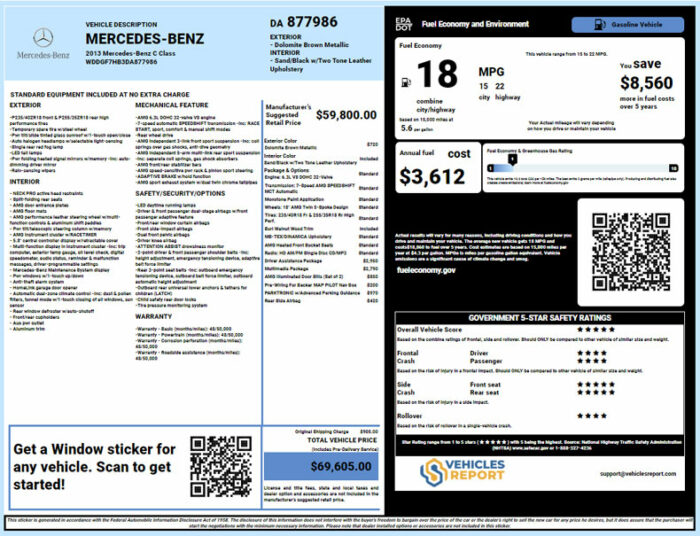 The Mercedes Benz Window Sticker Lookup is a helpful tool for anyone who is looking to buy a used Mercedes Benz car. With this tool from Vehicles History, you can quickly and easily look up the original window sticker for any Mercedes Benz car to get detailed information about the vehicle, including the original MSRP, standard and optional features, and more. This is a great way to find out what a used Mercedes Benz is really worth and to make sure you're getting a good deal when you buy one.
What is a Mercedes Benz Window Sticker?
A Mercedes Benz Window Sticker is a document that comes with a new or used Mercedes Benz vehicle. It contains important information about the vehicle, such as its make, model, engine size, options, and other details. It also provides the MSRP (Manufacturer Suggested Retail Price) for the vehicle. This information helps potential buyers make an informed decision when purchasing a new or used Mercedes Benz.
How To Get the Mercedes Benz Original Window Sticker?
To get the Mercedes Benz original window sticker, you will first need to visit the Vehicles History window sticker lookup page and provide your VIN. With your Vehicle Identification Number, you can gain access to your window sticker on Vehicles Report.
Search for your Mercedes Benz Window Sticker by VIN
To search for your Mercedes Benz Window Sticker by VIN, start by locating the VIN number on your vehicle. The VIN is typically located on the driver's side of the dashboard, near the bottom of the windshield, or on the doorjamb of the driver's side door.
Once you have located your VIN number, you can use it to search for your window sticker by filling out the form on this page with your VIN and contact information. You will also be asked to enter a strong password. After filling out the form, please proceed to the next stage by clicking "Get Access Now". You will be granted access to your window sticker and all the information it comes with.
What information does our Mercedes Benz Monroney Sticker contain?
The Monroney sticker for a Mercedes-Benz contains information about the car's base price, options, total price, fuel economy, safety ratings, and warranty information. It also includes a list of standard features and any additional features that are available at an added cost. In addition, the sticker will include information about the car's emissions levels, as well as any special financing or lease offers that may be available.
Why should you attain the Mercedes Benz window sticker?
Attaining a Mercedes Benz window sticker is a great way to show pride in your vehicle and to show that you care about the quality and craftsmanship of the vehicle you drive. It also gives you the opportunity to show off the features and capabilities of your Mercedes Benz. Additionally, having the window sticker on your vehicle can help you get better resale value and attract more potential buyers in the future.
Lookup Window Sticker for any Manufacturer