Lookup BMW Window Stickers By VIN
Get the original specifications, features, options and packages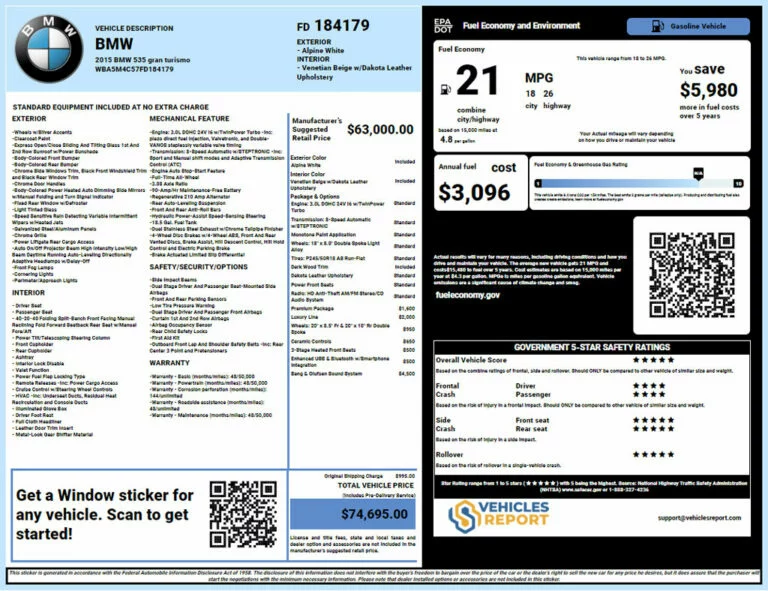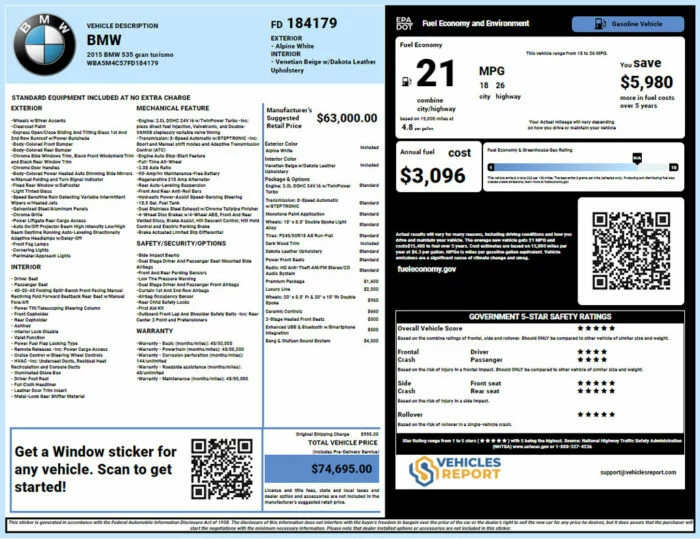 Are you looking for a BMW window sticker for your car? Look no further! Here is your one-stop shop for BMW window stickers. We provide detailed information about all BMW vehicles, including their original window sticker. Every BMW window sticker by VIN is unique and contains information such as the vehicle's standard and optional equipment, production date, VIN number, engine type, and more.
With our BMW window sticker lookup service, you can easily find the right window sticker for your car. We have a comprehensive database of BMW window stickers and we are constantly updating it with the latest models. Vehicles Report is the best place to find the window sticker for your BMW.
We guarantee the accuracy of our information and we are committed to providing the highest quality service. If you need any help finding the right window sticker for your car, please don't hesitate to contact us. We are here to help!
How To Get The BMW Window Sticker?
To find the window sticker for your BMW, you will need to provide the vehicle identification number (VIN), which is a unique 17-digit code that can be found on the vehicle itself or on documents such as the title or registration.
If you are unable to locate the original window sticker, you will be able to find information about the options and equipment on your BMW by looking up the VIN online with our windows sticker product. The window sticker is the most comprehensive source of information about the original configuration of the vehicle and as such you should trust us with your orders and they will get delivered.
What Information Does Our BMW Window Sticker Contain?
The BMW window sticker contains essential information about the vehicle, such as:
The vehicle's make
The vehicle's model, year, trim level, and engine size.
Transmission type, exterior and interior color, standard and optional equipment, emissions ratings, MSRP, destination charge, and fuel economy ratings.
It also contains safety information such as airbag deployment points, tire pressure and size, and brake system specifications. Finally, the window sticker may also contain warranty information outlining the vehicle's bumper-to-bumper and powertrain coverage.
Why Should You Attain The BMW Window Sticker?
The BMW window sticker provides a wealth of information about the vehicle you are considering. It includes details such as the engine size, engine type, transmission type, and other important specifications. It also provides information about the vehicle's fuel economy, which can help you determine if it is a cost-effective choice.
Additionally, the window sticker can provide information about the warranties available on the car, as well as any additional features or options that may be available. By having this information available, you can make a more informed decision when purchasing a BMW.
Frequently Asked Questions
Lookup Window Sticker for any Manufacturer