Check any Vehicle instantly in seconds
Does the vehicle have a hidden past? Find out today!
How to check a vehicle? In three simple steps you'll be able to find all the information on the vehicle you might need
Enter a VIN and your email. The VIN or chassis number is a unique number that each vehicle has, and consists of 17 characters. You can find this information on the vehicle or vehicle registration papers.
click on "check VIN". Select the number of vehicle(s) that you'd like lookup and make payment. After successful payment, you'll be redirected automatically to the vehicle history report.
Check the vehicle history report. The report will be available in your account on our site, you can view it whenever you want by logging in from our site, or you can download a copy in PDF format. In addition, you can enter the members area, where you can find additional free information about the vehicle, such as upcoming maintenance and services to be performed. Also, did you know that as a customer you get a 50% discount on all your future orders for life.
Why choose Vehicle Reports?
Vehicle report established the Automobile Insurance Anti-Fraud and Theft registry (M.I.A.F.T.R), to increase the tracking of claims and the level of protection offered when buying a used car. Previous insurance claims will be revealed in the report we offer you.
Sometimes the Mileage of a vehicle may be rolled back or reversed, this is usually done to make a car more attractive to potential buyers. Our vehicle history reports expose the true mileage of the car.
The Vehicles Report relationship with insurance and financial institutions results in almost instant responses when checking the financing status of vehicles. Our reports helps you see the loan/lien status of any used vehicle.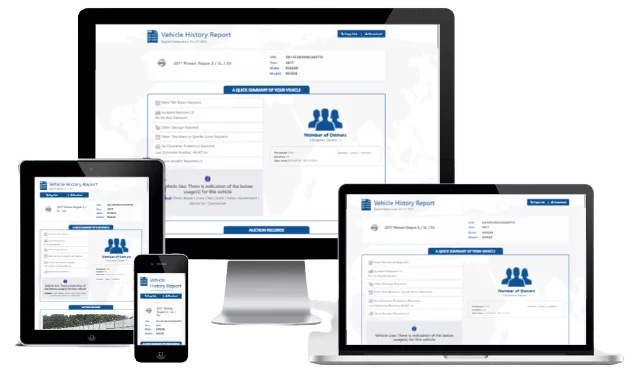 Never buy a vehicle without an auction VIN check!
Auctions are popular places to find good prices for used vehicles online, coming primarily from the United States and Canada, but also from the rest of the world. Using our Auction VIN Service you can get a secure and accurate auction history on any vehicle. Our goal is for you to know every detail of the vehicle before you buy it. We are the only site that shows auction photos in our reports for many vehicles.
We consult reliable data sources to check any type of vehicle!
We have reliable data for all types of vehicles: cars -including vintage cars, heavy trucks, and many more!
We provide information collected from the most respected and trusted data providers and industry experts. We obtain our information to generate our vehicle history reports from the following data sources, including but not limited to:
BENEFITS OF CHECKING YOUR VEHICLE'S HISTORY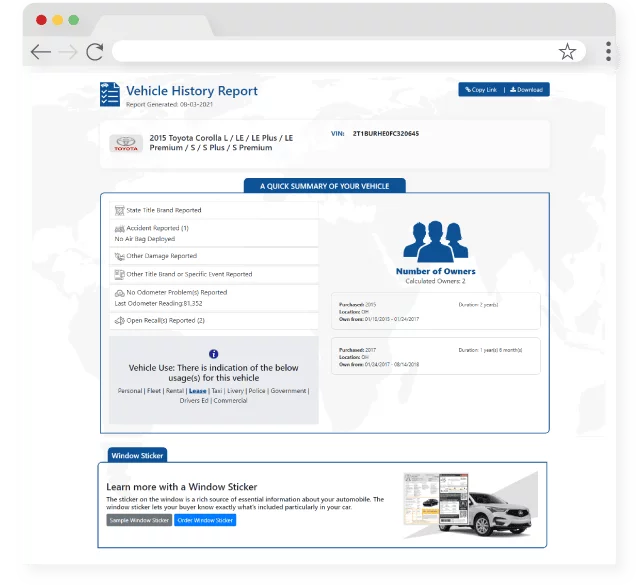 WHAT DOES A
VEHICLE HISTORY REPORT CONTAIN ?
We obtain all of our mileage records from the Department of Motor Vehicles (DMV), and Federal databases. Each report contains detailed mileage records along with service and title details when available.
Obtain information on the value that is usually given to the vehicle, including specifications on what time of year is best to sell or buy.
Owner history and service records
Find out how many owners the vehicle has had, the location, and the length of ownership. We present your vehicle records in chronological order, including the location of where the events occurred.
Record of accidents and salvage
Check out crash records, which are provided by state agencies and trusted partners in the auto industry. View salvage auction information, including vehicle date, location, mileage, and damage.
Title history and brand check
Get more than 70 current and historical title "marks," including negative marks such as scrap, salvage, rebuilt, or flood damage.
VIN INQUIRY CAN SUPPLY YOUR NEEDS
View crash records provided by trusted state agencies and automotive industry partners. View information on salvage auction listings, including vehicle date, location, mileage and damage.
See estimated market values ​​for used and new vehicles, based on historical vehicle sales history. 
Over 150 data points to describe your vehicle, including photos, body color, accessories, safety features, and more
Theft of a car can reduce the value of the vehicle. Look to see if the vehicle you are buying has any past theft records.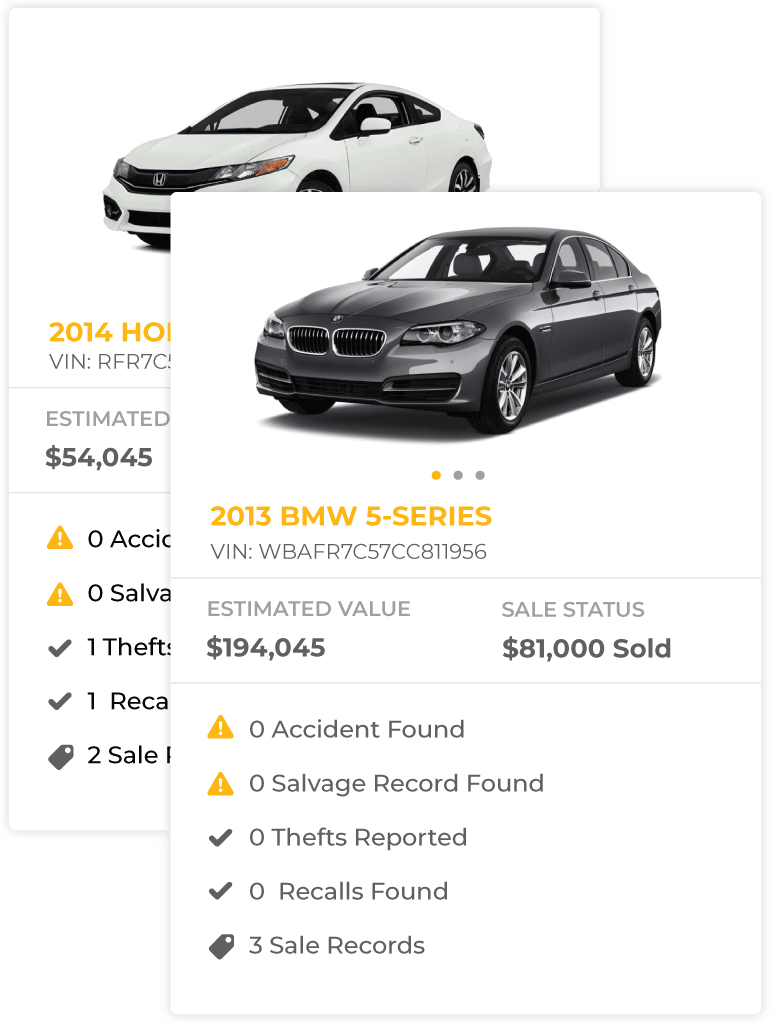 Carfax vs
Vehicles Report
Vehicles Report and CarFax use the same authentication sources to generate their vehicle history reports. The main differences between both sites are the following:
Frequently
Asked Questions