Every vehicle is assigned a unique identification in the form of a serial number by the
manufacturer. This unique identification number is called "Vehicle Identification Number" or VIN.
No two vehicles even of the same make, model, and model year can have the same VIN for
legal purposes. Every VIN number is made up of a 17-digit serial code, where information about
where the vehicle was manufactured, year, make, engine specifications furthermore are
encoded. Several vehicle manufacturers have been using VIN in America since the 50s for
keeping production records but the National Highway Traffic Safety Administration (NHTSA
) made it a quality regulation in 1981. Now all vehicles and vehicle manufacturers encrypt the
body of every vehicle with a 17-digit one of a kind VIN for tracking and identification purposes.
What is Vehicle VIN Number?
A VIN is a 17-digit unique serial number used for identification and registration of a vehicle. Without a verified and unique VIN, the ownership of the vehicle cannot be proved legally. Here is a quick brief of what information is stored in your VIN number: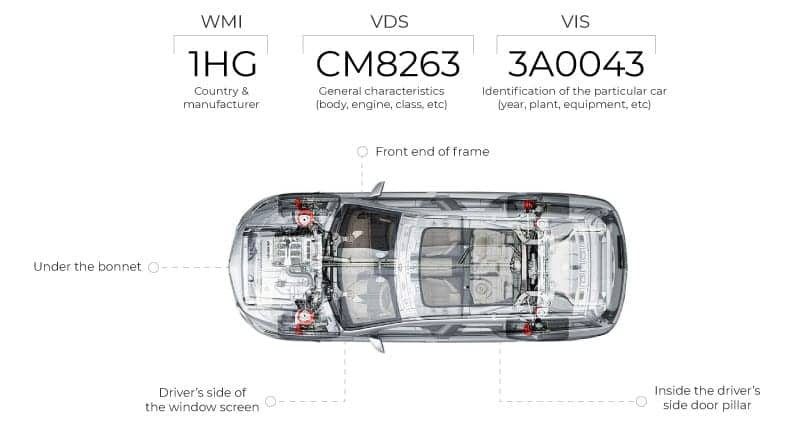 Why a Vehicle VIN is Important?
A vehicle identification number or VIN is a unique identifier for every vehicle. Without this number, two vehicles with the same color and make/model and year cannot be identified legally. The vehicle identification number (VIN) is primarily used by the manufacturers of the vehicles for decades for keeping organized records of their production units and manufacturing lines. However, for a car dealer or an individual buyer, it is impossible to be able to legally assume the ownership of a vehicle without its unique VIN information listed on the vehicles title & registration papers.
In simple terms, a vehicle cannot be identified without a valid VIN number. Though the factor of legitimate ownership is not a small one despite that VIN serves the owner of the vehicle in many ways. With the help of a VIN, the owners of the vehicle can become a registered driver and pass yearly DMV checks. Several criminal investigation departments like NICB (National Insurance Crime Bureau), The International Association of Auto Theft Investigators (IAATI), INTERPOL, National Crime Information Center (NCIC/FBI), and others keep track of all registered VIN numbers for screening criminal activities and national security.
Without the identification or verification of a vehicle identification number, a vehicle cannot be leased, loaned, credited, approved for insurance coverage, cleared for a bank loan, be sold, purchased by an authorized vehicle dealership, recalled for service maintenance, claimed for manufacturer/dealer's warranty or be legally driven on roads. According to the "California Vehicle Code Sections 10802, 10803, and 10750", illegal sales, possession, or alterations of Vehicle Identification Numbers (VINs) is a federal crime.
Furthermore, with the help of a VIN all the vehicle registration databases Like NMVTIS, NADA, and KBB keep records of history related to each and every vehicle across North America. These records contain the most vital information related to the history of a vehicle, Like previous owner details, odometers readings, vehicle maintenance data, lease clearance data, insurance information, title brands, salvage, lemon brands, and much more. Here is a list of a few important checks which make the verification of a valid VIN number not only important but crucial for every vehicle owner.
What is a VIN Verification Database?
A VIN or vehicle identification number is a unique identifier of any vehicle without which it is impossible to recognize or pinpoint one particular vehicle from the other. This number is usually engraved on the chassis of a vehicle by the manufacturers of the vehicle. However, a VIN can be removed, duplicated, or forged at any time by car thieves and criminals. Therefore it is necessary to put in place a database where all the history related to a vehicle from the first generation of its VIN to the total loss status can be stored. These databases are like evidence libraries for every vehicle. In case a vehicle's real VIN is erased, it can be recovered by database recovery protocols. In case there is a VIN duplication the real one can be identified with the help of these databases. In case of a VIN fraud or vehicle history forgery, the correct history can be pulled out from these databases. In case of a missing VIN, the real worth of a car can be looked up through these database records.
There are many vehicle history databases which are related to the recording of the different aspects of a vehicle history like ownership history, personal use, commercial use or fleet vehicle, loans & liens, accident, auction records, recalls and sales history. However, on account of their validity and quality of VIN history data, most reliable and trustworthy databases are listed as under. All of these databases are employed for every single vehicle history report generation by Vehicles Report
1) NMVTIS, 2) MTO, 3) DMV, 4) NADA, 5) KBB, 6) Edmunds, 7) Manufacturers and dealerships, 8) Insurance companies, banks, lien & loan corporations., 9) State, Police, Auction houses.
How to Create a Vehicle History Report?
Vehicle history reports are generated with the assistance of each unique VIN. These vehicle history reports are generated by many sources like dealers, lease organizations, maintenance stations, Insurance companies, state, and federal authorities. These history reports are vital to evaluate how much your car is worth. With the assistance of these vehicle history reports many important factors like salvage, depreciation, lease payoff, past ownership manuals, and other significant aspects of a vehicle history can be checked. Using a service like Vehicles Report ensures that every car owner has instant access to a legitimate VIN number and generates a comprehensive, user-friendly, and reliable vehicle history report for every used car seller.
We use as many as processing 60 vehicle evaluation factors for creating a solid vehicle history report for each and every unique VIN. Our vehicle history reports are accepted throughout the region of North America and have lifetime validity. What most used car sellers do not realize is that missing even one of these 60 vital vehicle report checks can not only decrease the value of their used car sales returns but also increases the chance of loss in thousand of dollars, safety risks, legal troubles, and even repossession of the vehicle. Here is an example of a few vehicle history reports evaluation factors and how they can affect your vehicle market value:
1) VIN Duplication, 2) Ownership History, 3) Recalls Records, 4) Title brands, 5) Lease & Lien History, 6) Salvage/Junked Status, 7) Mileage Records, 8) Accidents/Maintenance Reports, 9) Weather Damage, 10) Theft/Police Compound Records
Can I Verify VIN for my Vehicle?
We are living in the golden age of automobile technology. We have vehicles for every need, for everyone and of every shape and size. Car enthusiasts and vehicle owners have multiple varieties for the same variant of a vehicle. When it comes to vehicle history reports and VIN lookups, many of our consumers assume that we only provide services for cars. However, we take pride in working with SUVs, trucks, minivans, hatchbacks, convertibles, motorbikes, and even trailers. Here is a quick list of vehicle, www.vehiclesreport.com can assist you with: