Should I buy a salvage repaired car? This is the question you must ask yourself when you are online surfing through your favorite classified or auction website, and you see it, your dream car for thousands of dollars less than the normal price.
But just before you contact the seller you found out that its title is salvaged.  So should you buy it or not? What are the possible implications of buying?  Let's find out the meaning of the two words salvage-titled or reconstructed title (there are many different variations of this we can include)"
What is a salvage titled car?
Once a car has been involved in damage of any nature and deemed a total loss by an insurance company, a salvage certificate is usually issued which affects the title of the car. A car might be titled "rebuilt" or "rebranded"
As a further explanation, if a car is involved in an accident, the insurance provider decides whether or not it is worth repairing the car.
If the repairs quoted cost more than the car is worth, the car is totaled. The insurance company will pay off the owner and take possession of the car.
As the case may be, the insurance company has a junk or damaged car in its inventory and needs to make some money back from the car.
Therefore, they sell the vehicle to a shop or an individual who intends to get the car back to the road again.
The new owner can effect repairs and list the car for sale. Therefore, to protect buyers from buying a vehicle that has been totaled at some point the car is stripped off of its "clean" title and replaced with "salvage"
This is required by some states but does not always apply to other states. Every state has its own rules and regulations for titles.
It is worthy to note that cars are titled salvage not just for accidents but can also be given such titles for fire damage, flood damage, hail damage, and even theft and vandalism.
If given a chance will you like to see a detailed vehicle history report of a salvage repaired car? the image below shows when the car was damaged and after repairs.
How much does it cost to repair a salvage car?
How much does it cost to repair a salvage car?
The cost of repairing a salvage car is usually dependent on the degree of damage and also the areas affected by the damage. For example, the cost of repairing a damaged engine head cannot be the same as changing a damaged floodlight.
Should I buy a salvage repaired car?
This question can only be answered by you. If you like the car or are interested in buying it the vehicle history report can help you access the damage in any salvage titled car
Yes, you should buy if you have accessed the damage(s) or obtained a vehicle history report showing that the vehicle has minimal damages, perhaps primarily on the body.
But if the vehicle has significant damages you should change your answer to "no"., You shouldn't buy if your risk tolerance level is low and if the details shown after a VIN check suggests that the vehicle has been badly damaged or misused by the previous owner.
So it is up to you to decide if you will buy or not, if you know the individual auctioning this salvage car personally you can liaise with them, they may give you some honest facts and figures that will aid your decision.
How to avoid buying a salvage titled car
"Knowledge," they say "is power", sometimes a salvaged car may cost you more in the long run, so how do you avoid this pitfall?
It is as simple as getting the vehicle history report of the car in question,  you can run a VIN check with Vehicle Reports and gain invaluable insights on the history of your prospective car.
You can also ask for the maintenance records, have a closer look at them, and see how frequently the car has been serviced in recent years.
How do I know if a car has a salvage title?
The insurance company covering the vehicle after deeming it a total loss usually issues a salvage certificate to the car.
Hence it will be obvious in the paperwork of any used vehicle that it is branded as salvage.
Alternatively, the Vehicle Reports VIN decoder tool has helped so many used car buyers to get the title information of every used car.
Vehicle Reports is a leading provider of vehicle history reports, which gives detailed information about any used vehicle.
Information found in the vehicle history report is not limited to title history, but includes, a list of previous owners and an ownership timeline.
It also throws light on auction records going as far as including previous images of the vehicle, enabling you to see how damaged the car was before repairs were made.
Here is cropped section of our detailed vehicle history report showing the title condition of a vehicle.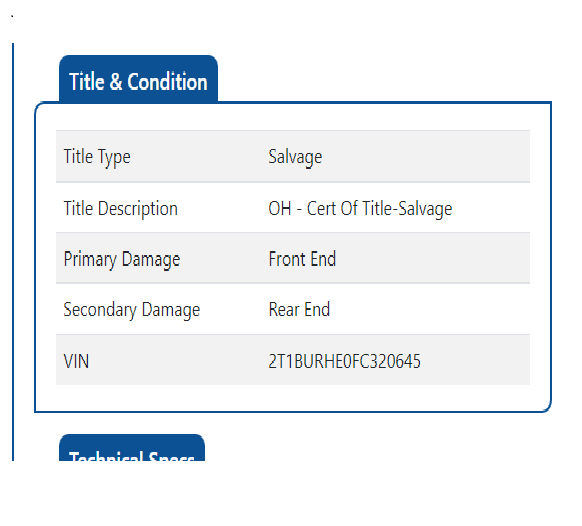 To see the rate of the damage on this vehicle before it was repaired, kindly refer to the full vehicle history report. 
The above, vehicle history report shows that the vehicle
Other information found on a vehicle history report includes: 
Detailed history verification
The true mileage of the vehicle
Auction photos

Number of previous owners and the timeline of their usage

Accident records

Theft records

Maintenance history

Lien records

Hail, flood, fire damage

Warranty status

Vehicle specifications

Safety ratings

Vehicle sales history

So if you want to check salvage title information or the above-listed details. Use our VIN check tool and grab the vehicle history reports of any car of your choice.