Unlike the standard 17 digits being used today, some vehicles before 1981 had a 13 digit VIN number. These vehicles are often referred to as classic cars. To decode a 13 digit VIN number, the simplest and best way is to use an online classic VIN decoder.
It may be difficult to accurately decode a 13 digit VIN because the numbers are not universal and not standardized, so only a few online VIN decoders support classic VIN numbers.
If you are planning to purchase a classic car, it's necessary for you to locate and decode the VIN number in due diligence. Sometimes this may not be that easy to do but it is very possible. A classic VIN number is an important serial number that identifies a classic car and gives the basic information (vehicle specifications) and its history.
It's also used in many aspects of law enforcement, such as when you buy or sell a classic car or to know if it's stolen and recovered.
How Do I Check A Classic VIN Number?
A VIN (Vehicle Identification Number) is the 13 to 17 digit number that is assigned by the manufacturer to an individual vehicle. Decoding a VIN can uncover a number of information about a car,including its country of origin, model year, trim level and engine size. 
Usually, the VIN can be located in these locations of your classic car:
It's stamped into a plate that is mounted on the dashboard near the windshield.
It's stamped on the driver-side door jamb.
It's also stamped on the engine's firewall.
How Do I Find The History of My Classic Car?
If you own or are looking to purchase a classic car, it may not be easy to find the vehicle history because classic VIN numbers were not the standard 17 digits we find today. So where do you go to do a classic car VIN search? 
Performing a classic VIN lookup can be a daunting task and there are several ways to go about  it. Here are some of the most common ways to get the history of a classic car.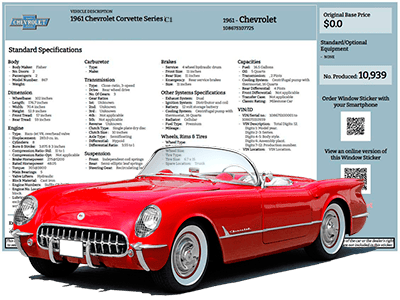 1. Use an Online Classic VIN Decoder
One easy way to perform a classic VIN check is to use a service like Vehiclesreport.com. This service collects information about cars from several data sources and stores them in its database.
This information includes the vehicle specifications, title information, and accident reports. You can use Vehiclesreport to do a classic VIN lookup by VIN number.
You can go to the National Highway Traffic Safety Administration (NHTSA) to lookup the history of a classic car. The NHTSA is a government agency that keeps a database of all cars in the United States.
The database contains information like the year, make, model, and other basic information of the car. It also includes vital information about the accident history.
3. Use an Online Forum or Community
Going to online forums and communities dedicated to classic cars can also help you find information about the history of a classic car.
In these forums, you will find several classic car enthusiasts who are passionate about classic cars and will be ready to help others find information about their cars.
It's believed that forums can be a great place to find the  pictures, specifications, and owner's manuals of classic cars.
4. Contact the Original Manufacturer
You can also contact the original manufacturer of a classic car for its history.
Definitely, many manufacturers will have data of all the cars that they have ever made. This information could be the year, make, and model, and information about any recalls that it may have had.
Here is a list of the information you will find in a classic vehicle history report from Vehiclesreport.com.
Vehicle Specifications
Title Information (Junk/ Salvage/ Total loss)
Title Brands
Vehicle Value
Odometer information
Recalls
Warranty
Each section has more detailed information as you go through the report and the information provided can help you decide if you want to buy a car or not.
Why You should Get a Classic Vehicle History Report from Vehicles Report?
Vehiclesreport is the industry-first to have support for classic cars by providing information about the history of any classic car, including the window stickers.
Vehiclesreport offer the best price in the industry. The standard price for a single classic report is $25 and by their huge discount offer, you can end up paying as low as $15.
Vehiclesreport also assures a money back guarantee on every of their classic vehicle history report and window sticker. It's certain that the report you get will accurately reveal all the records available for the classic car.
Why do I Need to Decode a Classic VIN?
In the first few decades of assigning VIN, the numbers themselves differ depending on the manufacturer -since there was no standard regarding length and character type.
Some of the most common reasons to decode the 13 digits VIN of a classic car include:
To validate the authenticity of an older vehicle before you decide to buy it.
To determine an accurate value for an older car before you decide to sell it.
Older cars and trucks typically command a larger monetary value, so the risk is often greater especially if you don't have some basic information or know the history of the car.
Many classic car dealerships should have records about the transaction information for vehicles manufactured before 1980. They may also provide copies of window stickers or other related documents.  
You should also try contacting your state DMV and law enforcement agencies, which might have older registration records in their database.
You can also extend your search to insurance agents that work with classic cars – these companies may also have some helpful information.