Semi trucks are playing a really great role in the automotive industry, but the emissions resulting from their use are just that: great. This is why the electric car industry has ventured into the manufacture and production of electric semi trucks. These vehicles, just like electric cars, are improved daily and can cover as much distance as their diesel counterparts without delay. In this article, we will highlight the best electric semi trucks available in the electric car industry today. We will also mention a few electric pickup trucks that may interest you.
Benefits of getting an electric semi-truck
So, what are the benefits of electric semi trucks? For the world generally, you should have guessed that there would be a reduction in yearly GHG emissions and overall environmental impact. According to the Environmental and Energy Study Institute, semi trucks powered by diesel contribute to at least 7% of the GHG emitted annually. It seems like a small fraction, but wait until you see its value in tons. With the transition of the trucking industry to electric trucks, there would be low to zero emissions in this industry. What other benefits are there?
Cost Savings: Electric trucks have lower operating costs compared to traditional diesel trucks. The cost of electricity is typically lower than diesel fuel, resulting in reduced fuel expenses. Moreover, electric vehicles require less maintenance since they have fewer moving parts and no need for oil changes. This means there would also be fewer trips to the auto repair shop.

Energy Efficiency: Another benefit of getting an electric semi truck is that these trucks are highly energy-efficient and provide superior performance. They convert a higher percentage of the energy from the grid to power at the wheels, which means more efficient use of resources and reduced energy waste.

Noise Reduction: Electric trucks operate silently, minimizing noise pollution in urban areas and improving the overall quality of life for both truck drivers and the communities they pass through.

Increased Safety: EV semi trucks now have a higher center of gravity due to the location of their batteries and power source, so they are protected from rolling over.
Now that we've seen the benefits, let's hit the nail on the head.
Top 5 electric semi trucks in the automotive industry
The top 5 leading electric semi-trucks in the automotive industry are:
Nikola Tre
Peterbilt 579 EV
Freightliner eCascadia
Volvo VNR Electric
Tesla Semi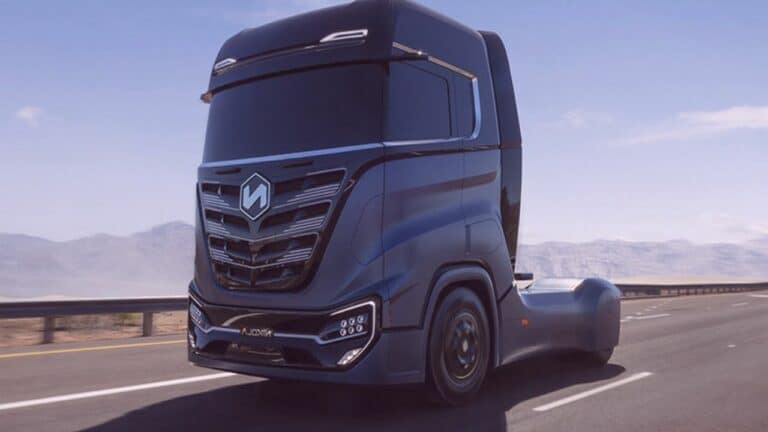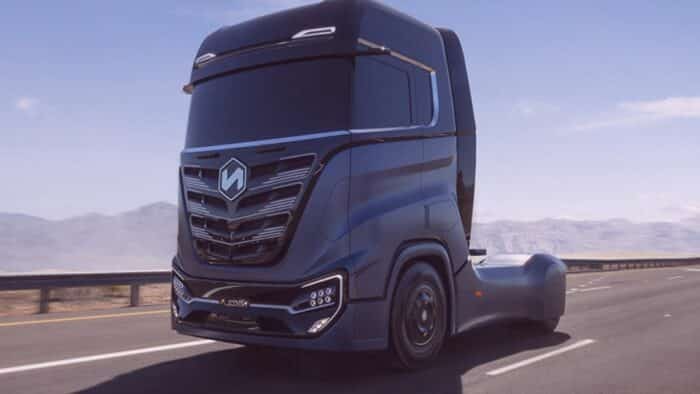 This electric semi truck has a lot to offer consumers looking to purchase one. Developed by the Nikola Corporation, this vehicle combines hydrogen fuel cell technology with a battery-electric powertrain, offering a long range and quick refueling capabilities.
It features a range of up to 350 miles and is available in various configurations, including day cab and sleeper cab options. The truck incorporates advanced technologies and is expected to have hydrogen fuel cell variants as well. It also has a maximum horsepower of 645 hp and can go from 10% to 80% in about 120 minutes. With a top speed of 75mph, you can expect this Class 8 semi-tractor to meet all your transportation needs.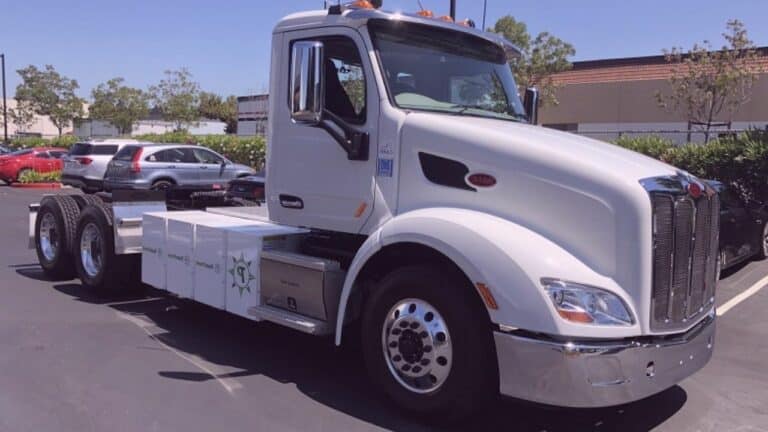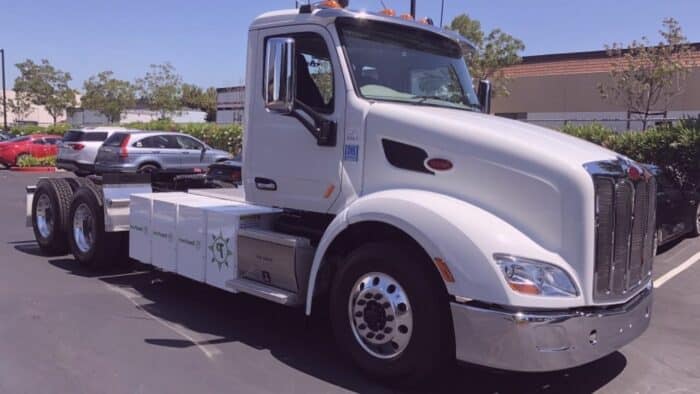 Another really good choice to make if you want to purchase one of the best electric trucks. The Peterbilt 579 EV is an all-electric version of the popular Peterbilt 579 model. It is designed for long-haul applications and offers an estimated range of up to 150–200 miles on a single charge. The truck is equipped with a high-density battery pack and advanced electric drivetrain technology. It also features regenerative braking to help maximize energy efficiency. The Peterbilt 579 EV aims to provide a zero-emission solution for long-haul transportation while maintaining the performance and reliability associated with Peterbilt trucks.
This EV can get a full charge in under 4 hours using a DC fast charger and reaches a maximum horsepower of 536–670 hp. Before payment, however, be sure to take a good look at the vehicle's specifications.
THE FREIGHTLINER ECASCADIA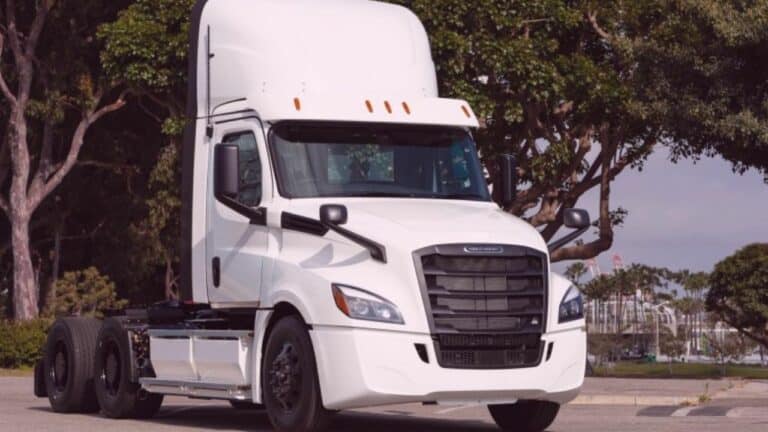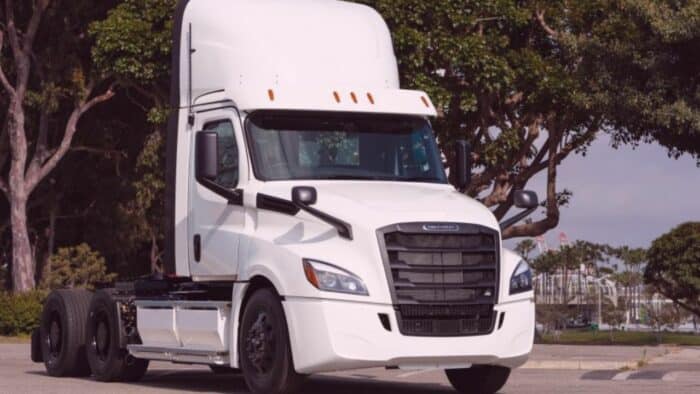 Ranking 3 out of 5 on our list, the Freightliner eCascadia is a Class 8 truck that is perfect for long haul applications. This all-electric semi-truck developed by Daimler Trucks North America is based on the popular Cascadia model, which has been a staple in the trucking industry. The Freightliner eCascadia electric truck is designed for long-haul applications and aims to provide a zero-emission solution for freight transportation.
Key features of the Freightliner eCascadia include a driving range of up to 250 miles on a single charge, making it suitable for regional and some long-haul routes. It is powered by a high-capacity battery pack and offers fast charging capability, with the ability to reach 80% charge in about 90 minutes and horsepower of 360 to 500 hp. The eCascadia incorporates advanced technologies, including regenerative braking, energy management systems, and telematics, for efficient operations and fleet management.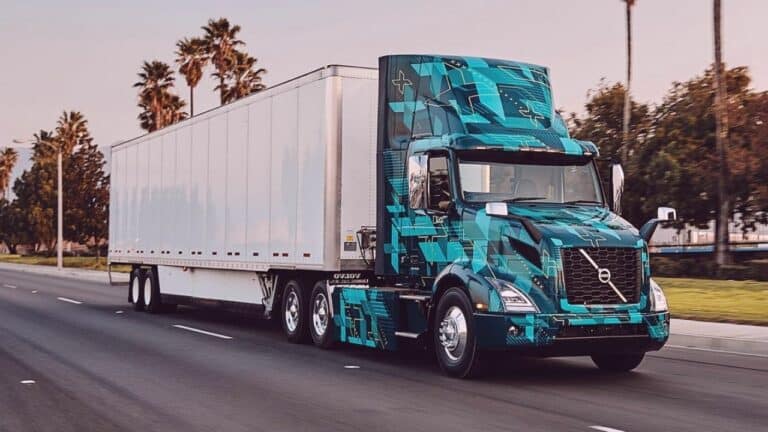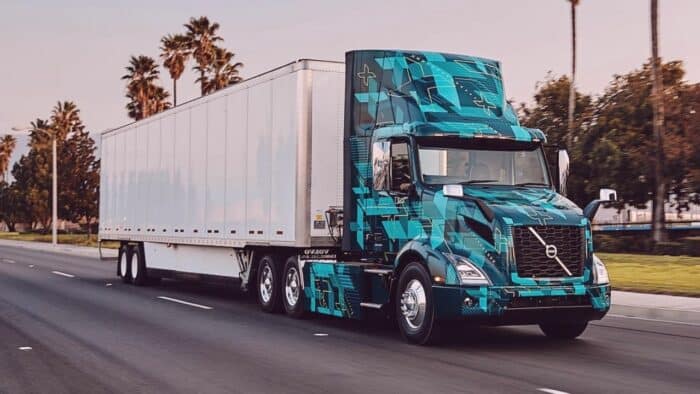 Next on our list is the Volvo VNR Electric. With a range of up to 275 miles per charge, Volvo's VNR Electric offers a zero-emission solution for semi truck applications, aiming to reduce environmental impact and operational costs. Key features of this Electric truck include a range of up to 150 miles on a single charge, making it suitable for short-haul applications. The truck is equipped with a high-capacity battery pack and utilizes regenerative braking to optimize energy efficiency. What's more is the charging capacity and time. The VNR Electric can be charged to 80% capacity in 70 to 90 minutes, which allows for convenient charging during rest periods or load/unload operations.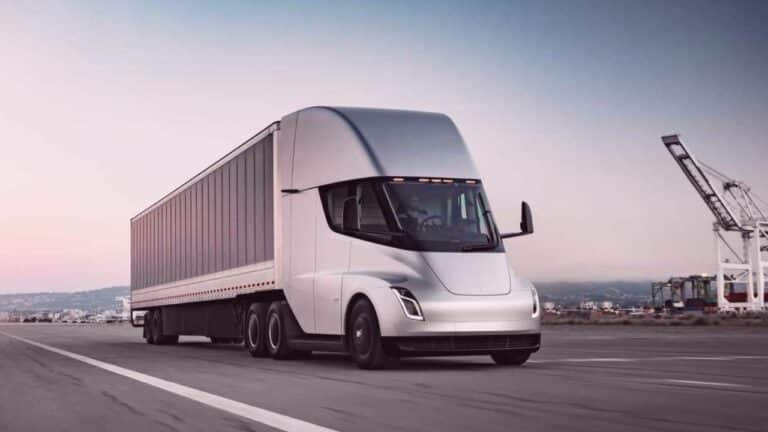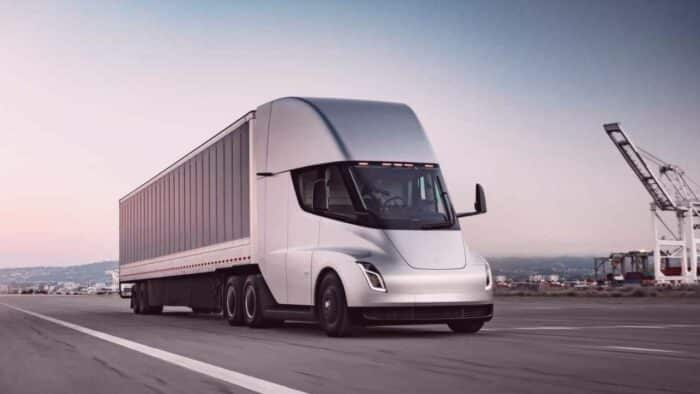 The Tesla Semi is a highly anticipated fully electric semi-truck that aims to revolutionize the trucking industry. Just thinking about its futuristic and aerodynamic design, along with advanced technologies and electric propulsion, is mind-blowing.
The Tesla Semi includes a claimed range of up to 500 miles on a single charge, making it suitable for long-haul applications. It is equipped with multiple electric motors for fast acceleration and enhanced performance. The Tesla Semi also incorporates regenerative braking to maximize energy efficiency and has an extensive set of active safety features, including Enhanced Autopilot capabilities.
The Tesla Semi boasts impressive specifications such as quick acceleration, capable of reaching 0-60 mph in as little as 5 seconds without a trailer or 0-60 mph in 20 seconds with a maximum 80,000-pound load. Additionally, it is expected to provide a smooth and comfortable driving experience for truck drivers. What more could you ask for?
That's it then, the best electric semi-trucks available on the market for you. But that's not all you need to know. Are there challenges with using these semi trucks? Yes. Yes, there are.
Challenges With The Transition to Electric Semi Trucks
As good as these electric trucks are, there are some challenges associated with using them, such as:
Charging Infrastructure: Currently, most charging stations are designed for charging passenger vehicles. According to the Environmental and Energy Study Institute, there are approximately 6,700 public DC Fast Charging stations. The widespread adoption of electric semi-trucks requires a robust charging infrastructure, and if more charging stations are set up on major trucking routes, it'll make the use of EV semi-trucks much easier.

Range Limitations: Another challenge is the range of these EV trucks. Range is a general challenge for all EVs, and this has been improved over the years, but there is still a need for further advancements in battery technology and improvement in range to achieve ranges comparable to those of traditional diesel trucks. The limited range still poses a huge challenge and should be worked on better.

Initial Investment: Electric semi-trucks generally have a higher upfront cost than their diesel counterparts. Everybody knows this, and it is a big challenge for most businesses, but it's probably comforting to remember that the long-term cost savings in terms of fuel and maintenance expenses can offset this initial investment over time. Emphasis on  "over time."
What about electric pickup trucks? Top 5 electric pickup trucks
Interested in a regular Pickup truck instead? If you are more of an electric small truck or pickup fan, there are a few recommendations we can make. Some of the best electric pickup trucks on the market are:
Rivian R1T

Ford F-150 Lightning

GMC Hummer EV

Tesla Cybertruck

Bollinger B2, and more.
There are many more to choose from. Just be sure that whichever small electric truck you choose has enough potential to meet your business or personal needs while meeting your budget.
Get a VIN Check Before Buying any used EV truck
Purchasing a used electric truck comes with its own set of considerations. It is essential to conduct a detailed vehicle history check through the VIN to ensure that the truck has been well maintained, has a clean title, and does not have any hidden issues. Services like Vehicles Report can provide comprehensive reports that include information on accidents, maintenance records, and any reported problems, enabling buyers to make an informed decision.
Electric semi-trucks are undoubtedly the future of sustainable transportation, clean energy, and the trucking industry in general. With their numerous benefits, including environmental friendliness, cost savings, lower maintenance, and energy efficiency, they are designed to transform the way goods are transported. Yes, there are some challenges, but who's counting? With daily advancements in technology and government support, the trucking industry can be made more sustainable and efficient. Remember, however, that a used EV truck could have potential and hidden issues, so make sure to get a VIN check with our VIN check tool.